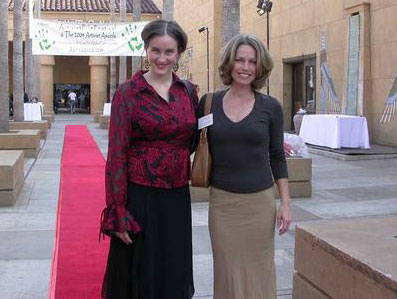 "Liberty Bound" producers Lorraine, and Christine, at the Egyptian Theatre
Hollywood Premiere.

Filmmaker: Christine Rose
Executive Producer: Lorraine Evanoff
PR: Mari Eliza (SF) and Nisa Jaie McCoy (NY)
To schedule an interview or appointment: Please contact filmmaker, Christine Rose.
bluemoosefilms@hotmail.com
http://www.bluemoosefilms.com/
http://www.libertybound.com/
http://www.911truth.org/
Download pdf Press Kit and Flyer

Interviews
Howard Zinn, Historian
Michael Parenti, Author and Social Commentator
Michael Ruppert, Publisher of From the Wilderness
Robert Lederman, Civil Rights Activist
Don Paul, Author & Musician
Harry Roland, Former WTC Tour Guide
"Winston", Anonymous
Michael Moore, US Navy Vet
Jeff Seemann, Civil Rights Activist, running for position as US Representative in Ohio
Distribution
We have a limited release of Liberty Bound on DVD for US/Canada. Only 1,000 copies are being made, so order your copy today! Please email us if you would like to host a screening in your area.
Screenings Abroad
Screenings In the States - Please see libertybound.com for new screenings. We are working on a tour in September. New dates are being added.
Tuesday, May 11 Full Feature Premiere in the US at the Artisvist Festival in Hollywood
APRIL 2004 "Liberty Bound" was featured at the first annual Artivist Film Festival, Saturday, April 24 at 2:30 PM at the Egyptian Theatre in Hollywood. http://www.artivistfilmfestival.org
The audience gave Christine Rose and her film, "Liberty Bound", a warm reception at the Artivist Film Festival. This was the first screening of the full-length feature documentary, although excerpts had been shown elsewhwere, most notably, a 20 minute segment at the International 9/11 Inquiry in SF. "Liberty Bound" is full of surprises, opening up many new subjects for discussison and debates on what happened and why.
March 2004 San Francisco, California
Excerpts from "Liberty Bound" were shown at the
Program for the International Inquiry into 9-11
Phase One, San Francisco, California, March 26-28, 2004, Robust Theatre, War Memorial and Veterans Building, 401 Van Less Avenue, San Francisco CA http://www.deceptiondollar.com/Inquiry911.htm
"Liberty Bound" (20 minute 9-11 segment) received cheers. Maria Gilardin, of TUC Radio, singled it out as "one of the most memorable" on her program, in which she covered the event.
February 29 Chico, California
Liberty Bound sold the worldwide rights to Take Off of France. US/Canada rights are still available at this time. Please contact Christine Rose directly.