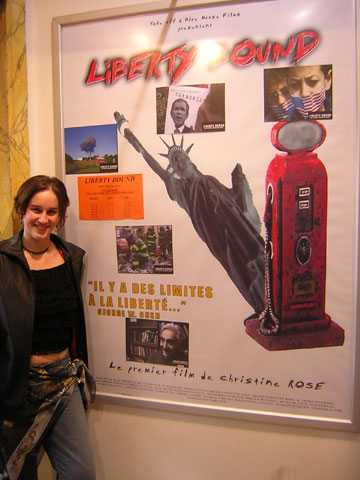 Christine at the Paris opening, June 23, 2004. Graphic shows how the French feel about US loyalties.
Screenings Abroad
July 11 St Michel extends LIBERTY BOUND to six showings daily...The only theatre in Paris showing Christine Rose's premiere documentary LIBERTY BOUND is finding the crowd overwhelming! After for showing 4 times daily, they had to add two additional showings per day due to the increasing demand.

June 23 Theatrical Premiere in Paris. See more pictures from the premiere in Paris at Espace St. Michel at www.libertybound.com under the Photo Gallery link. Comments from abroad. Take Off is handling International distributions and promotions.
May 24 Toronto at the 2nd International 9/11 Inquiry
May 19-21 Cannes Film Festival
February 29 Chico, California
Liberty Bound sold the worldwide rights to Take Off of France.

International Press
From "Le Monde" and "Liberte" in France, to Filmski.net, "Liberty Bound" is strikes a nerve and garners comments and reviews around the globe. And this from a one-month run in Paris.
Audience Response
Ms Rose, Your film is magnificent and I've been sending everybody and anyone in Paris to see it. I sent your site to a friend in NY and he ordered a copy of the film.
- James Warner, Paris
This documentary opens the eyes of us, here in France - the way of controlling, carried out by the obsession of safety in the United States
- Kathleen
I finally got to see it yesterday and I loved it! I really enjoyed Pr. Zinn's interventions, they were very clear and easy to understand, but he managed to explain complicated concepts.
- Mona

Hi ! I saw Christine Rose's film this afternoon in Paris, and I found it really interesting, ... it's a courageous film, and I would like to congratulate her for her work. I'm french, but I do believe that not all the Americans agree with George W. Bush Junior's ideas... Bye !
- Christine Avignon.
PS : hopefuly I won't get arrested because of this e-mail if one day I go to the States ....
I urge any American to see it, whatever their political views. It is important that they see what damage is being done to 'freedom' in their country
- Alex Poole
The interviews are astounding, often chilling. As an American living in Paris, I'm afraid I'd have a problem with the Patriot Act if I went back to the States. I had no idea how it can demolish individual human rights and privacy. Tampering with Constitutional rights, such as free speech, I thought that was illegal, anti-American and downright treason! The list of countries the USA has bombed in the past few years is quite impressive also. My sincerest thanks to Ms Christine Rose for making this film. I'm telling everyone about it and will do my best to send as many people as possible to see it.
- James Warner