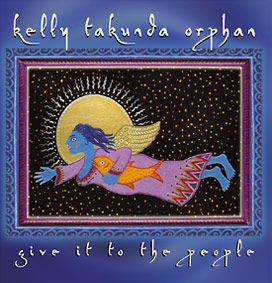 2004 SAN FRANCISCO BAY AREA TOUR

Mountain View House Concerts Series
Wednesday, April 28, 8pm
Home of Daniel Steinberg.
Reservation required Tickets: $13-15
Email (preferred)
or (650) 947-9669

Oakland Box Theater
Friday, May 14, 8pm
Special Celebration with DJ Dance Party!
1928 Telegraph Ave., Oakland
Tickets: $10-15, $5 kids

Kuumbwa Jazz Center, Santa Cruz
With Special Guest:
Danjuma-Nigerian Master Guitarist
Friday, May 21, 8pm
320-2 Cedar Street, Santa Cruz
www.kuumbwajazz.org
Tickets $15 general,
$10 Student/Senior

Dance Palace, Point Reyes Station
Saturday, June 12, 8pm
503 B Street, Point Reyes Station. www.dancepalace.org
Tickets $15 general, $10 Student/Senior

La Pena Cultural Center
Thursday, June 17, 7:30pm
3105 Shattuck Ave., Berkeley.
www.lapena.org.
Tickets: $10 Ticket Info:
www.kellytakundaorphan.com
www.cdbaby.com/ktorphan

(510) 893-4875
Contacts
Band: Kelly Takunda Orphan 510-893-4875
PR mari@abazaar.com 415-626-6141
All of One Records presents Kelly Takunda Orphan's CD "Give it to the People", and her Bay Area Spring 2004 CD Release Celebration Tour. Bring the entire family and get ready to dance.
Kelly Takunda Orphan's debut recording "Give it to the People", is produced by Kenneth Nash (percussion & vocals), featuring Baba Ken Okulolo (bass), Capital (guitar), Elouise Burrell (vocals), Hafez Modirzadeh (horns), Amber Hines (vocals & percussion), Manas Itiene (drums), Machingura (vocals) and other special music guests.
All music and lyrics by Kelly Takunda Orphan, except for "Close to Me-Remix", by Benjamin and Paul
Tickets and CDs: www.kellytakundaorphan.com
You could use buzzwords like Indie Singer/Songwriter and World Music to describe Kelly Takunda Orphan's debut CD. She was raised in a family of mixed-heritage musicians in the San Francisco Bay Area, sang in her church choir, studied piano, voice, and percussion, and toured with Babatunde Olatunji, before moving to Africa and discovering her deep-rooted passion for music and dance in Zimbabwe.
There is a sophisticated jazz element to Kelly's vocal phrasing, and a hint of horn running throughout many of the tunes. She spent years touring with Keith Terry and Crosspulse Percusssion Ensemble, prior to forming her own band. Her music is equally at home in a jazz concert or on the dance floor.
Particularly intriguing are the child-like lyrics and rich vocal harmonies woven into the scores. They paint a striking picture of the artist. Listening to the lyrics reminds me of my own travels abroad. I imagine how profound the experience was for a music student to land in a world of strange sounds. It's always the same, wherever you go. The moment you step off the plane you are on the moon, or might as well be, when it comes to using that most convenient tool, your mouth, to get whatever you need. Words and phrases become patterns of noise. As you delve into the chaos, you are a child again, taking baby steps as you learn to speak.
It is in this void that Kelly's poetry was born. Idyllic images, grafted onto a hardy melange of rhythm, harmony and melody, were skillfully fashioned into a new sound. Call it world music, ethnic jazz, or roots, since the journey began in America. Listen and draw your own conclusions.
Radio Stations now playing our music include KPFA in Berkeley, KWMR 90.5 FM in Pt. Reyes, 89.3 FM in Bolinas, and KVMR FM in Nevada City. Request your favorite song.
"Kelly Takunda Orphan has been on a long and wondrous musical journey beginning with her Armenian roots to the percussion driven music of West Africa, Zimbabwe, and the Caribbean. This, her first recording, reveals a rare breed of musician who carefully and respectfully fuses together music from disparate cultures. The vocals are warm and lush - the rhythm tracks will make you want to dance."
-Linda Tillery, leader of Grammy-nominated group, Linda Tillery & the Cultural Heritage Choir.

More reviews, printable files and an interview on the NEXT PAGE
Notes from Steve Kent interview on KPFA